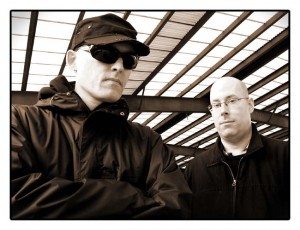 Kalte is the abstract/ambient project from Deane Hughes of Akumu and Rik MacLean of mara's torment.
Working in electronic sub-genres such as zero-bpm, music concréte and deep ambient, the duo produces eerie and expansive soundscapes — created almost entirely from natural sources that have been digitally altered and re-assembled. The result is a dark and atmospheric combination of organic and electronic elements. Kalte's debut release, "The Lanthanide Series" (Stasisfield, 2008), features five tracks of dense, haunting music composed by Hughes and MacLean during the depths of a long, cold Canadian winter.
Both members of the Toronto-based duo are well known for their solo electronic projects. Deane Hughes' work as Akumu explores minimal ambience and shadowy beats. Hughes is also an accomplished digital video artist, blending the music and video mediums in his live performances. Hughes has recorded for Spider Records, Cohort and Chat Blanc and has performed at Montreal's Mutek Festival. Rik MacLean has been producing work as mara's torment for more than ten years, during which time he has released a variety of albums, podcasts and compilation tracks. MacLean performs often and has a range of live experience, including the Convergence Festival in Montreal and Toronto's Ambient Ping and Darkrave events.