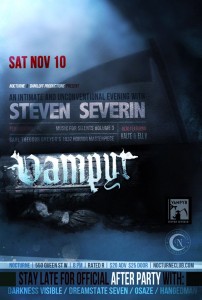 Having established SubZeroArts in Fall 2011, we spent a large part of 2012 planning new work for that project which meant that we took a year off from recording new Kalte material. But despite being busy with new installation work, Kalte was never very far from our thoughts and when we had the opportunity to play an opening set for one of our musical heroes we jumped at the chance.
Steven Severin was a founding member of Siouxsie and the Banshees in the early days of the 70s Punk scene, and together with Siouxsie Sioux and other band members, he shaped a legacy of brilliant music inspired by art, passion, and philosophy that still stands as some of the best work to have come from that era. Following the break up of the Banshees, Severin focused on creating atmospheric instrumental work which was a strong influence on Rik's solo project mara's torment.
We had originally made contact with Severin in 2011 while he was touring through North America performing a live score to Cocteau's film "The Blood of a Poet", and sent him some links for Kalte to see if he would be interested in letting us open for his show in Toronto.
And he was.
To have one of your heroes enjoy your work enough to share a stage with you is surely one of the best and most validating experiences that an artist can attain, and of all of the things that we've done throughout our musical career as Kalte, this was absolutely one of the highlights.
Unfortunately, Severin's 2011 tour was cancelled due to a family emergency but we were able to connect again the following year, and in November 2012 we opened for Severin at the Toronto date of his "Vampyr" tour where he performed live music for the classic horror film. At a hosted dinner held the night before the show, Severin was every bit the engaging and inspiring artist that we imagined he would be, and at the gig he greeted us like old friends even though we had only met in person less than a day before.
We played a great set that night, and Severin's soundtrack to "Vampyr" was excellent, a perfect evening spent with one of our heroes…
For the entire month of October while we celebrate #10yearsofKalte, if you buy a copy of "The Lanthanide Series" through Bandcamp you can send us your email at info@kaltemusic.com and we'll send you a free copy of our latest release, "Covalencies"!