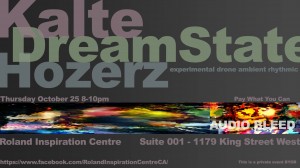 We're very pleased to announce that Kalte will be performing at the Roland Inspiration Centre in Toronto along with our good friends dreamSTATE and Hozerz as part of the latest installment of Audio Bleed on Thursday, October 25th.
We're particularly excited about this performance as October marks the Tenth Anniversary of our first release "The Lanthanide Series", so we'll be diving deep into the Kalte songbook to mark the occasion.
We hope that you'll be able to join us as we celebrate a decade of making mysterious abstract music.
RSVP to the Facebook event to keep updated about the show…