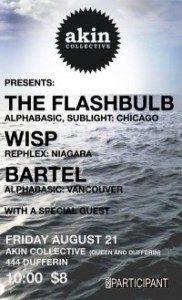 Kalte will be performing at the Akin Collective on Friday August 21st.
Akin Collective is located at 444 Dufferin Street, Unit E, Toronto, just north of the Gladstone.
We'll be playing with The Flashbulb, Wisp, Bartel and DJ SubMental.
More Information at the Facebook event: facebook.com/event.php?eid=140887886069
We look forward to seeing you there!