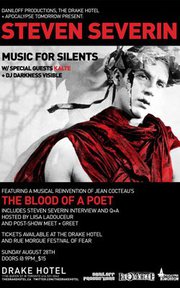 We are thrilled to announce that Kalte will be opening for Steven Severin's performance of Music for Silents featuring Jean Cocteau's "The Blood of a Poet" at The Drake Underground in Toronto, Ontario on Sunday August 28th.
Our good friend Liisa Ladouceur will be doing a Q and A with Severin at the show and DJ Darkness Visible will be spinning Darkwave throughout the evening.
We hope you'll be able to join us for this very special event, please visit the Drake website or the Facebook event page for more information.
Deane and Rik
Kalte