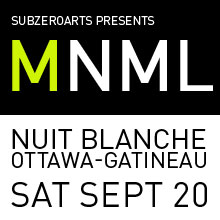 Deane and I are pleased to announce that our arts collective SubZeroArts will be returning to Ottawa to debut our latest work MNML in Room 306 of the Ottawa School of Art as part of Nuit Blanche Ottawa-Gatineau 2014!
MNML leads viewers through a sensory experience combining generative video and sound art designed to inspire the imagination. We're very excited to be presenting MNML as part of Nuit Blanche Ottawa-Gatineau, and we look forward to seeing you all!
Nuit Blanche Ottawa-Gatineau runs from 6:20pm to 4:21am on Saturday September 20th, with performances, installations, and more on display all over the city. This is our third year participating, and we always look forward to it as one of our favorite art events of the year. Find out more by visiting http://nbog.ca/
Be sure to visit the SubZeroArts site to find out more about MNML and some of the other exciting work we're doing, and while you're at it  be sure to Like SubZeroArts on Facebook or follow @SubZeroArts on Twitter to keep updated about future projects!