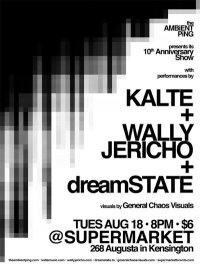 Following the release of "Glaciations" we were ready to do some shows, and given that they had been the inspiration for our working together in the first place, it seemed only natural that our first gig should be at The AMBiENT PiNG. We got in touch with Scott and Jamie about booking something and they offered us a spot as part of their 10th anniversary in August 2009, along with their own project dreamSTATE, and our friend Wally Jericho.
Having mapped out what we were doing with "Glaciations" we were ready to play the new material but we hadn't been using the mapping technique during the recording of "The Lanthanide Series", so we had to go back and figure out how to play everything from that album in a live setting. It was an interesting process, and required us to take apart the album and study each of its component parts individually, which gave us a new appreciation for what we were doing and some ideas about how we could develop and even further improve upon our processes, which would benefit the recording of our third release "Fissures" (more about that one later).
Once we had mapped all of the earlier songs out, we had to come up with a set list of what we wanted to play, and while we had no illusions that we had a beloved back-catalog of hits that we needed to roll out for the fans, we did want to make sure that we touched on highlights from both albums that we thought were relevant in terms of who we are as Kalte, and we also wanted to play some stuff that would sound good live, because you always want to sound good live. We opted to start with "Shallow Approach" because it's the first song from "The Lanthanide Series", and it seemed like a nice way to build up a set and create a tone for the performance. From there things started to fall into place nicely and pretty soon we had come up with about 40 minutes covering both albums that was properly mapped and ready for live performance.
Of course, mapping and choosing a set list, while still an integral part of the live process, is not the only thing you need to get ready for a gig. You also need to rehearse and practice and make sure that you know what to do. You have to identify any cues and you have to know where there are any sweet spots to stay in and any rough spots to be careful with. And even though our mapping technique allowed us to recreate our music live, we also had to work in space to be spontaneous and improvise as well, because when you're feeling in the groove you really want to be able to keep groovin', right?
Ultimately you have to know pretty much everything about your set to get the job done, and that takes a lot of planning out. One decision we made early on was to play a continuous set with no breaks rather than individual songs, as it would create a more consistent mood and it would also save us from any potential disasters as we loaded different songs. Even in those early days we were thinking ahead! We also had to figure out what to wear, and we cannot express how very important wardrobe is when you're playing live. For the record, at our first show we both went with black jeans, white shirts and black ties. We looked great.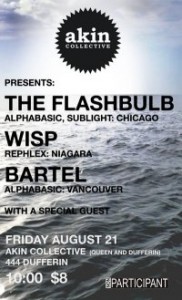 To make things even more interesting while we prepared for our first show, we were also offered a gig with the Akin Collective for three days after our spot at The AMBiENT PiNG. Neither of us are the kind of person to turn away an opportunity to play a show, so we said "Of course we'll do it!" and we set about preparing for a second show while we were getting ready for our first. And you might think that would be easy, we could just play the same set and everything would be fine, right? Not quite. We decided that it would be more fun to come up with a completely new and different set for the second show. And it was fun, but it was also a bit of a scramble too. In the end we were able to get everything done in time for both sets, but we did have to make fast decisions about wardrobe for the second show. We opted for hoodies and sneakers, and we looked great at that show too.
You'll be happy to know that both shows were well received and came off with no technical issues. We played some music, people enjoyed it, and we had fun doing it, which is pretty much the goal for any live show. They were both great experiences that pushed us a little bit further ahead in terms of what we were doing with Kalte, and they inspired us to do more shows in the future.
Which we did…
For the entire month of October while we celebrate #10yearsofKalte, if you buy a copy of "The Lanthanide Series" through Bandcamp you can send us your email at info@kaltemusic.com and we'll send you a free copy of our latest release, "Covalencies"!