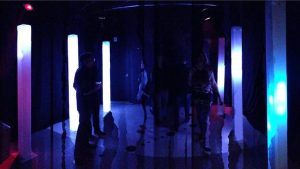 By 2013 we had staged a number of variations on "The Sound is Watching You", and confident with the technology we had developed for it, we decided that we wanted to tackle a new project with a physical element. Where "The Sound is Watching You" had been a reactive and generative multi-media installation, we thought that it would be a logical progression for us to add a material component that people could trigger by touch, moving our work out of the virtual realm and bringing us into a more physical interactive world.
Our first foray into physical interactivity was called "Pillars of Light", which was initially staged at SAW Gallery as part of Nuit Blanche Ottawa Gatineau in September 2013. "Pillars of Light" expanded on the interactive elements of "The Sound is Watching You" by presenting a series of illuminated columns within a three dimensional space. When audience members touched the Pillars, lights and music would be triggered, resulting in an immersive environment and a more physical representation of SubZeroArts' foundational concept of art experiences created by audience members.
Despite having similar themes to our past work, putting this installation together was a particular challenge for us. We had worked out most of the technical aspects in earlier projects, but we now had a physical component that we had to make and neither of us had very much experience in that field. After considerable research and a fair bit of experimenting, we decided to make the Pillars using seven foot lengths of acrylic sheet that we would attach together with industrial strength glue.
Putting the Pillars together was difficult to say the least. The glue was hard to work with, and aligning edges proved to be challenging given the length of the sheets we were using. In addition, we had to reevaluate transport to Ottawa based on the size and fragile nature of the completed Pillars, which threw an extra wrench into our plans.
Regardless of the issues we faced, in staging "Pillars of Light" we learned that while physical art has it's complications, the rewards are well worth it. Seeing the space transformed by the light shining from the Pillars was a magical experience, and the response from the audience was amazing. Successful moments like those can easily make you forget all the hard work that goes into creating something, filling you with an incredible sense of accomplishment. It's a pretty awesome feeling.
Later that fall, we brought the Pillars back to Toronto and used them as a backdrop for a Kalte performance at The AMBiENT PiNG. Pulsing and throbbing with light in time with the music we were making, the Pillars seemed to take on an almost organic quality that perfectly complimented what we were doing on stage, proving once again that physical art has it's complications but the rewards are well worth it…
For the entire month of October while we celebrate #10yearsofKalte, if you buy a copy of "The Lanthanide Series" through Bandcamp you can send us your email at info@kaltemusic.com and we'll send you a free copy of our latest release, "Covalencies"!