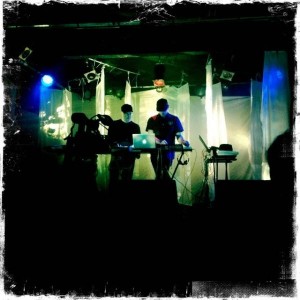 Thanks very much to everyone who made it out to our show at the Ambient Ping! We had a wonderful time playing with our friends dreamSTATE, and the light show by General Chaos Visuals was quite striking. Thank you also to all of you that tuned into the Livestream broadcast of the night, we were very happy to be able to perform for some of our friends that live a little farther away from Toronto. If you didn't have a chance to watch last night, an archived copy of the show is posted at http://www.livestream.com/theambientping so you can enjoy it at your leisure.
If you have any pictures or video of the show that you'd like to share with us, please be sure to let us know because we'd love to see them!
Over the next few weeks we'll be focusing our energies on SubZeroArts' presentation of LIGHTSOUNDPLAY! at Nuit Blanche Ottawa in September (visit http://www.subzeroarts.com/ to find out more!), and we'll have some more events to announce in the months to come. We'll keep you updated on everything as it gets confirmed!
Thanks again, we'll be seeing you soon!
Rik and Deane
Kalte