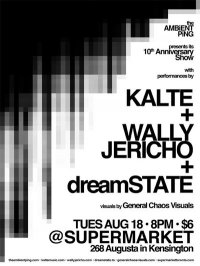 Kalte will be making it's live debut on Tuesday August 18th as part of the AMBiENT PiNG's 10th Anniversary Show at Supermarket (268 Augusta Ave, just south of College) in Toronto. We'll be playing as part of a bill featuring Wally Jericho and dreamSTATE.
More Information at the Facebook event: facebook.com/event.php?eid=139849242984
We look forward to seeing you there!