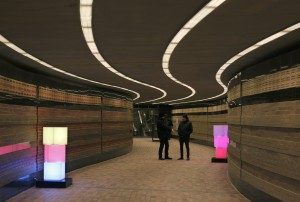 In February 2015 we staged a new installation called "TouchCubes" at Art Souterrain in Montreal. Building on our earlier "Pillars of Light" piece, "TouchCubes" featured a collection of interactive cubes that illuminated and emitted soft soothing music when touched.
This was our second time working with acrylic plastics and glue. We had learned a lot from our past experiences with the pillars, so construction of the actual cubes was considerably easier this time around, but the project still presented a number of new challenges that took some time for us to solve. This was our first installation in Montreal, and we wanted to make a good impression with a new audience in a new city, so we spent a lot of extra time considering logistics and contingency. The event was scheduled to run for almost a full month in a public space, so we had to make something that was solid and tamperproof that could run unattended and wouldn't break down over the course of the event.
We'd never really considered that kind of "permanence" in an installation before, even during our past residence at the NAISA space for "The Sound is Watching You" where there had been event staff that could reset the installation if necessary. With "TouchCubes" we had to make something that was entirely self contained and that gets tricky. We spent a long time trying to figure out how to make it all work.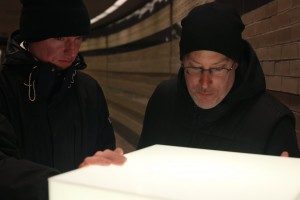 You're probably wondering how we did it, right? How we made a self-contained installation that was tamperproof. Sorry, trade secrets prevent us from sharing our techniques, but suffice to say that we figured out a way to make everything work and it went off without a hitch for the entire length of the event.
If you're not familiar with it, we'd like to take this opportunity to tell you about what a fantastic event Art Souterrain is and also give a great big shout out to all of the event organizers who were incredibly supportive and thoughtful in helping us out during the show. Art Souterrain features dozens of installations and artwork that line the underground pathways beneath Montreal, and walking from one end of the city to the other you'll see an awesome collection of work that spans a variety of different forms and techniques presented in public spaces that are more utilitarian than the typical gallery spaces that you would expect. It truly is an incredible event and we were honoured to be part of it.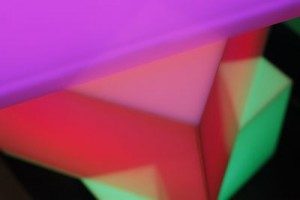 While we were setting up the "TouchCubes" in Montreal, we had a short photo shoot with Melanie May Taillon. We've always appreciated Melanie's photographic work and we're pleased to be able to share some of her pictures of the Cubes with you.
In addition to presenting "TouchCubes" in Montreal over the winter, we redesigned and restaged the installation outdoors as "Cubeism" at the inaugural Camp Wavelength event on the Toronto Island in August 2015. Suffice to say that weather, sand, and fire ants should all be significant considerations when presenting an outdoor installation, but we're pleased to say that the 'Cubes were able to withstand it all…
For the entire month of October while we celebrate #10yearsofKalte, if you buy a copy of "The Lanthanide Series" through Bandcamp you can send us your email at info@kaltemusic.com and we'll send you a free copy of our latest release, "Covalencies"!