We'd like to thank the Agniworld and Darkfloor sites for their reviews of "Fissures" and for their support of our work.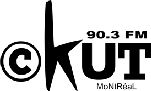 We'd also like to thank CKUT in Montreal for their continued radio support of "Fissures", and we were thrilled to see that it's currently the number one release in the station's RPM charts(!) as of April 26th.
Thanks also go out to Dhomochev for making this fan video for our track Svalbard from our "Glaciations" album. We're very flattered that our work has inspired you.