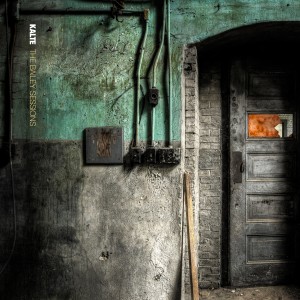 We began work on our fourth album in May 2016 and inspired by the sounds of the "Transmissions" installation, we decided to shake things up a bit. It had been five years since the release of "Fissures" and though we hadn't released an album in that time, we had gained a lot of experience and ideas for Kalte from steady live shows and installation pieces that we had staged as SubZeroArts in the intervening years.
Dubbing the new album "Kalte 4", we decided to apply a more abstract sound palette than we normally worked with, moving into a slightly more challenging aural landscape for us to explore. We rethought the previous restrictions we had placed on ourselves about sound sources, blending in some wave patterns and even adding some percussive elements to distinguish our new material from earlier Kalte work. We also decided to add a live element to the recording process that we hadn't used for past albums. Rather than concentrating on individual songs, we decided to record Kalte 4 as a long form track much like one of our live performances, building a suite of sorts containing multiple movements that would seamlessly ebb and flow together. Not being content to envelop the listener for eight, nine, or ten minutes at a time, we instead opted to create a single forty minute piece that encapsulated the Kalte aesthetic along with all of our new ideas.
It made for an interesting series of recording sessions, forcing us to think in terms of larger scope and broader themes musically. In the end we came up with a Kalte album that was new and fresh and distinct from our earlier releases, but still possessed a shared sonic ideal. We were totally pleased with the results, and decided to name the album "The Bailey Sessions", in recognition of the recording process we had used on this release and as a nod to one of our earliest supporters, James Bailey, who many of you will know as the host of Electric Sense on CIUT here in Toronto.
We reached out to our friend Mike Morton (aka Displacer), to see if he'd be interested in releasing "The Bailey Sessions" on his Crime League label, and were thrilled to be added to the Crime League roster when the album was released in October 2016. In addition to putting out the album, Mike also got us in touch with Chris Goodenbury, whose stunning photography on the cover of the album perfectly captured the sense of the music we had made.
Prior to the release of "The Bailey Sessions", Deane put together a short teaser video that touched on many of the ideas that informed the album, setting the stage for a new phase in our musical work.
On the subject of Crime League, we very much encourage you to check out the rest of the label, where you'll find some fantastic music by some truly amazing artists. In addition to work by Kalte and Displacer, you'll also find releases by Gnome and Mark Spybey, Dead Voices on Air, Shimmer Crush, and many more awesome musical projects, all very definitely well worth investigating!